Heating and drying cabinets, HeatEvent
Wherever the going gets hot, decision makers worldwide rely on Vötsch Technik heating and drying cabinets. The world novelty HeatEvent is about to launch. Discover the many benefits and get an impression of our latest innovation.


THE NEW GENERATION OF HEATING AND DRYING CABINETS
For standard goods – HeatEvent 
Our innovative design allows for the largest interior volume with the smallest footprint. The proven control system SIMPAC adds intelligence and convenience. A comprehensive security package is included so nothing burns.
For dangerous goods – HeatEvent F 
For all combustible substances according to DIN EN 1539, HeatEvent F is sure to be a safe choice. We consistently rely on total control down to the smallest details and on minimising risks as far as possible.
Reproducible results plus the product quality connected to it, minimum space requirements, short processing times and a high level of productivity are the requirements in all industrial production areas. Your components and materials can be reliably, quickly and energy-efficiently heat-treated at temperatures of up to 400°C with the Heating and Drying Cabinets HeatEvent from Vötsch Technik. In this way, you can manufacture excellent products 24/7.
HeatEvent provides the highest interior volume with the smallest footprint. Thanks to iE3 motors, improved insulation and the reliable door-sealing concept, the ovens operate with maximum energy efficiency.
The HeatEvent series is equipped as standard with the digital SIMPAC measurement and control system and the innovative WEBSeason user interface.
This facilitates simple operation and monitoring of the heating and drying oven, the creation of complex temperature programs and the automation of processes in accordance with AMS 2750E or CQI-9. High process reliability is achieved thanks to the safety concept.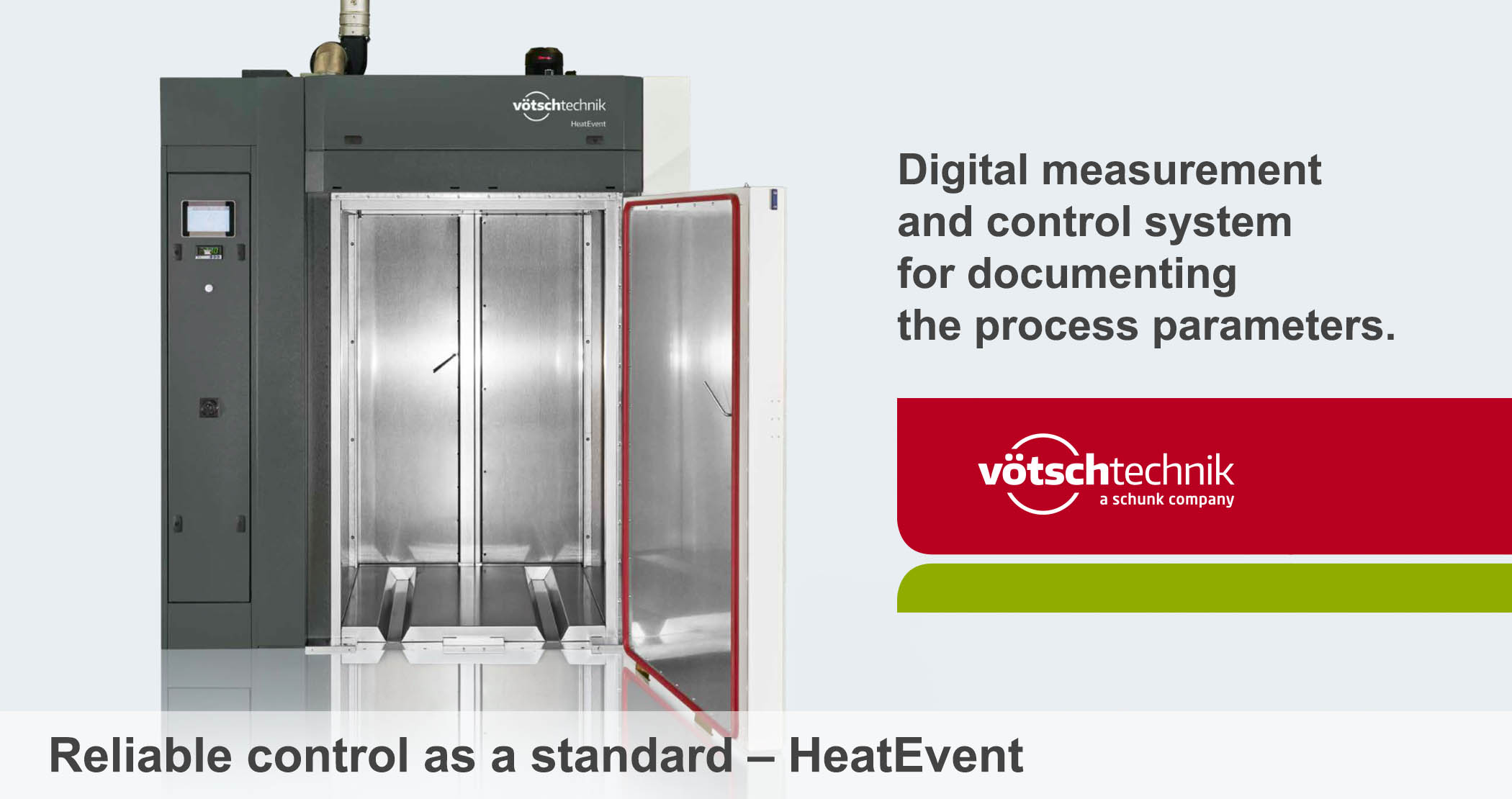 Overview of customer benefits
Smallest footprint with the largest effective space
Low energy consumption thanks to IE3 motors, optimised heat output, insulation and reliable door sealing designs
World's largest range of options and accessories in addition to comprehensive basic equipment
Exterior
Easy access 
You have full access to the effective space when the door is opened at an angle of just 90°.
Combined with a front access switch box, it has the smallest space requirement in its class. Therefore, you have more free space without reducing the furnace capacity.
A device that grows with your requirements 
The innovative housing construction and the flexible configurability of the control system allows the easy subsequent addition of further components during the production phase or after delivery. If your processes change, we simply adjust your device.


Regulation and Control
Intelligence included 
The SIMPAC control system, which is included as standard, allows the creation of complex temperature programs and the automation of your processes – also in accordance with AMS 2750E or CQI-9.
Become independent 
The innovative WebSeason user interface allows you to also monitor your processes using a smartphone or tablet when you are out and about. Thanks to the individual allocation of user rights, several users can access the device at the same time.
 
Safety
Don't miss out on anything 
In addition to the target temperature setting, the individually adjustable test material protection system ensures process safety. Digital and analogue inputs and outputs allow for comprehensive sensor technology and the control of numerous actuators – all without a complex bus system. Thanks to a potential-free contact, even the smallest interference is discovered and communicated to the higher-level monitoring system.


TAILOR-MADE TESTING
Optional equipment for individual solutions.
Interior
Some like it really hot – If required, the standard temperature range can be increased from 220°C up to 400°C.
When speed is the key – The drying process can be additionally accelerated by an increased air exchange rate. Faster cooling can also be achieved in this way.
Bespoke feeding – Even temperature control without adhesion is achieved for bulk material by using a rotary drum. Whether push loading drawers, grates, insertions or loading trolleys – we have a suitable solution for every application.
Regulation and Control
Set standards in communication – The SIMPATI software allows for easy operation, documentation and archiving of your batch records.
100% traceability – The optional module SIMPATI Barcode Scan is an ideal addition for batch registration and stock management. The process data is simply scanned and in this way it allows batch numbers and product IDs to be entered almost without any errors and process workflows to be automatically allocated to the individual products.
Should our extensive standard production program not meet your requirements, we will be pleased to consider a customised solution for you.
Please contact us by email or give us a call, and a qualified staff member will advise you.