Vötschoven VVT vacuum dryer
Our vacuum drying ovens are tried and tested solutions for drying temperature-sensitive products and removing residual moisture from capillary tubes. We develop customised heating/vacuum systems that are perfectly matched to the product in question.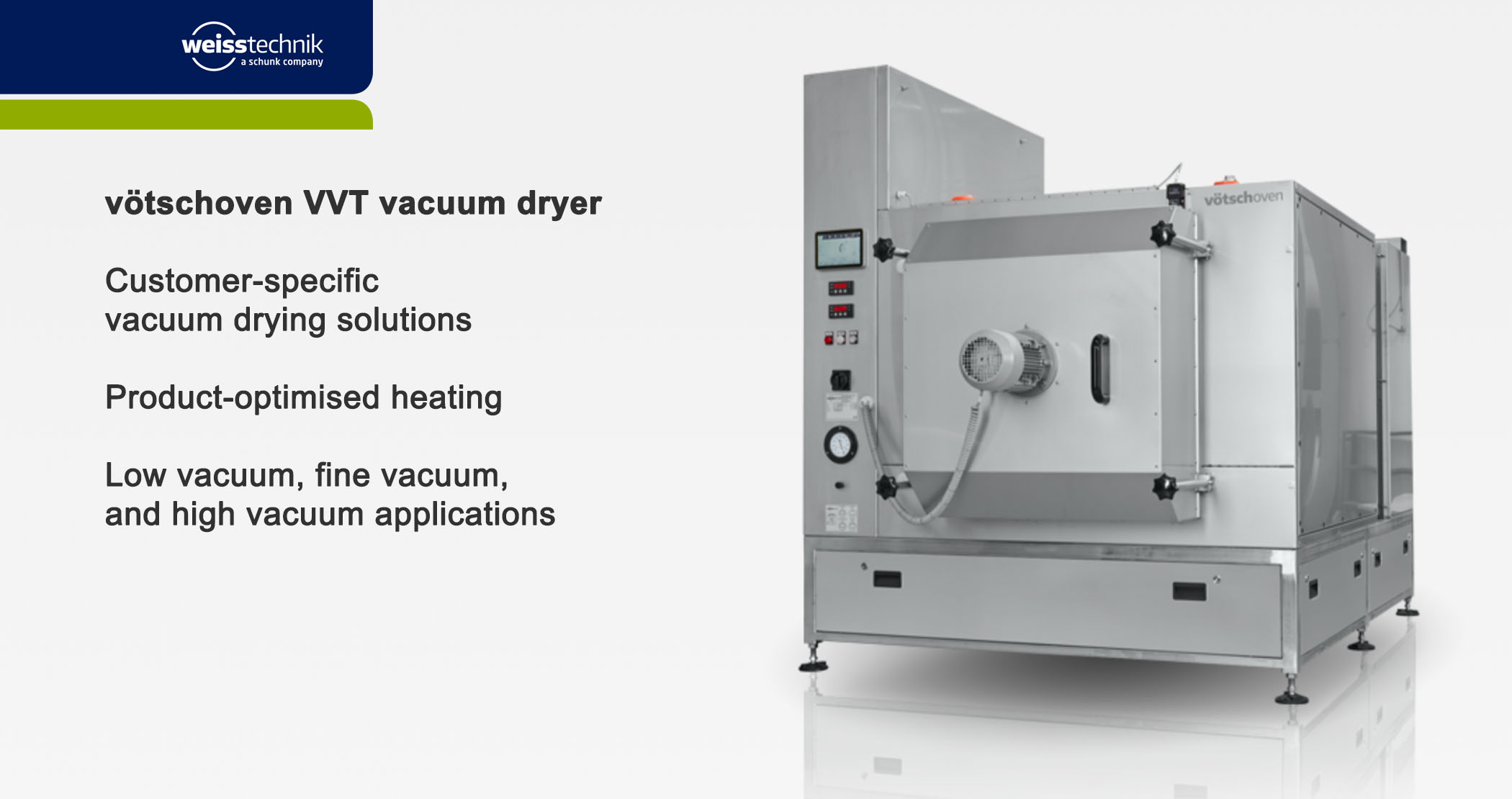 In vacuum drying, a vacuum is built up in the usable space and the product is heated accordingly. According to the vapour pressure--temperature curve, this also reduces the boiling point of liquid mixtures (water and solvents) which evaporate at significantly lower temperatures. Dehumidification and drying processes under vacuum are particularly gentle on the product and also reach difficult-to-access places within product geometries. In addition, air and vapour trapped in the product are reliably removed, and re-condensation is avoided.

Solutions developed specifically for the application
Vacuum ovens are used in the manufacture of medical products, pharmaceuticals, electronic components, foodstuffs and in the aerospace industry, among others. They also play an important role in the production of lithium-ion batteries for electric vehicles. Thanks to our many years of cross-sector experience in industrial heating technology, we can develop customised heating and vacuum systems that are perfectly matched to the product in question. This enables us to provide product-oriented, reliable and highly precise drying processes.
Features
Customer-specific vacuum drying solutions
Product-optimised heating: jacket heating, plate heating, circulating air temperature control
Low vacuum (up to approx. 1 mbar), fine vacuum (up to 10-3 mbar) and high vacuum (HV up to 10-5 mbar) applications
Chamber oven / batch version or integrated in the production line
GMP-compliant ovens for drying under cleanroom conditions
S!MPAC® control and S!MPATI® software for easy programming, operation and monitoring
Consulting, development and implementation from a single source