Vacuum heating and drying ovens VVT
The vacuum drying ovens VVT of Vötsch are remarkable for reduced drying times by optimal drying conditions for light, powdery products. Products from almost all branches of industry can be dried in a vacuum drying oven.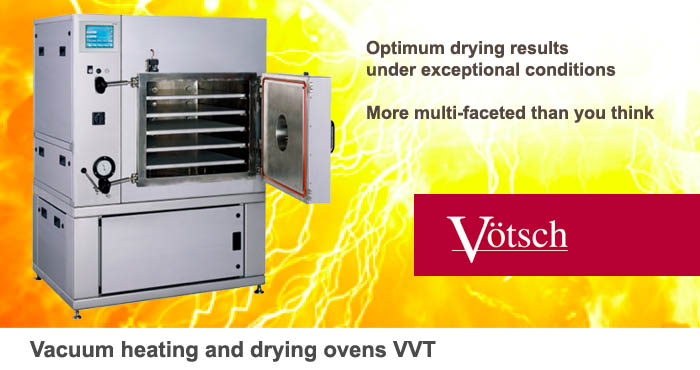 Optimal Drying Results under extreme Conditions
Features
Heat-sensitive mediums (e. g. pharmaceutical products) are dried with care.

Reduced drying times by lowering the pressure

Due to the extremely low remaining oxygen content in the drying oven there are no oxidation processes.

Evaporating fluids (e. g. solvents) can be recovered
Optimum drying conditions for light, powdery products as there is no turbulence (no convection).

No "skin-forming" on the product being dried; therefore constant drying performance.

Economic because steam or warm water from other processes can be used as a heat medium.

Flexible heating
Options / Accessories
Use of special materials for all components that come into contact with evaporating fluids (e. g. Inconel, Hasteloy).

Combination with recirculation air for heating up of products at normal atmosphere.

Design in accordance with GMP-/FDA.

Qualification documents are issued as verification of our tests.

In order to avoid condensation in the drying oven, the door and walls can be heated.

Pneumatically-controlled doors for the automatic loading of the drying oven.
Designed for high-vacuum processes.

Pressure control in conjunction with a solenoid valve in the suction line.

Temperature sensor for product being dried.

Nitrogen supply for quick extraction of released vapour.

For aggressive solvents: door seals of viton or with FEP cover.

External housing with surrounding frame for installation in wall.