Vacuum drying in battery cell production
Extremely efficiently and optimised vacuum drying technology is indispensable in the production of lithium-ion batteries. We design customer-specific vacuum dryers that can be integrated into production lines and research facilities as required.
What advantages does vacuum technology offer in drying processes? 
Reduced air pressure also reduces the boiling point of liquid mixtures according to the vapour pressure-temperature curve. These then evaporate at significantly lower temperatures and can be actively sucked out of a receiving vessel. Therefore, sensitive products do not need to be heated as much in a vacuum to achieve the same drying performance.
All of the trapped air and vapour in the product is removed and re-condensation after the drying process is reliably prevented. This makes vacuum drying the perfect solution wherever moisture has to be removed from sensitive materials gently, without leaving residues and in a manner that is process-safe.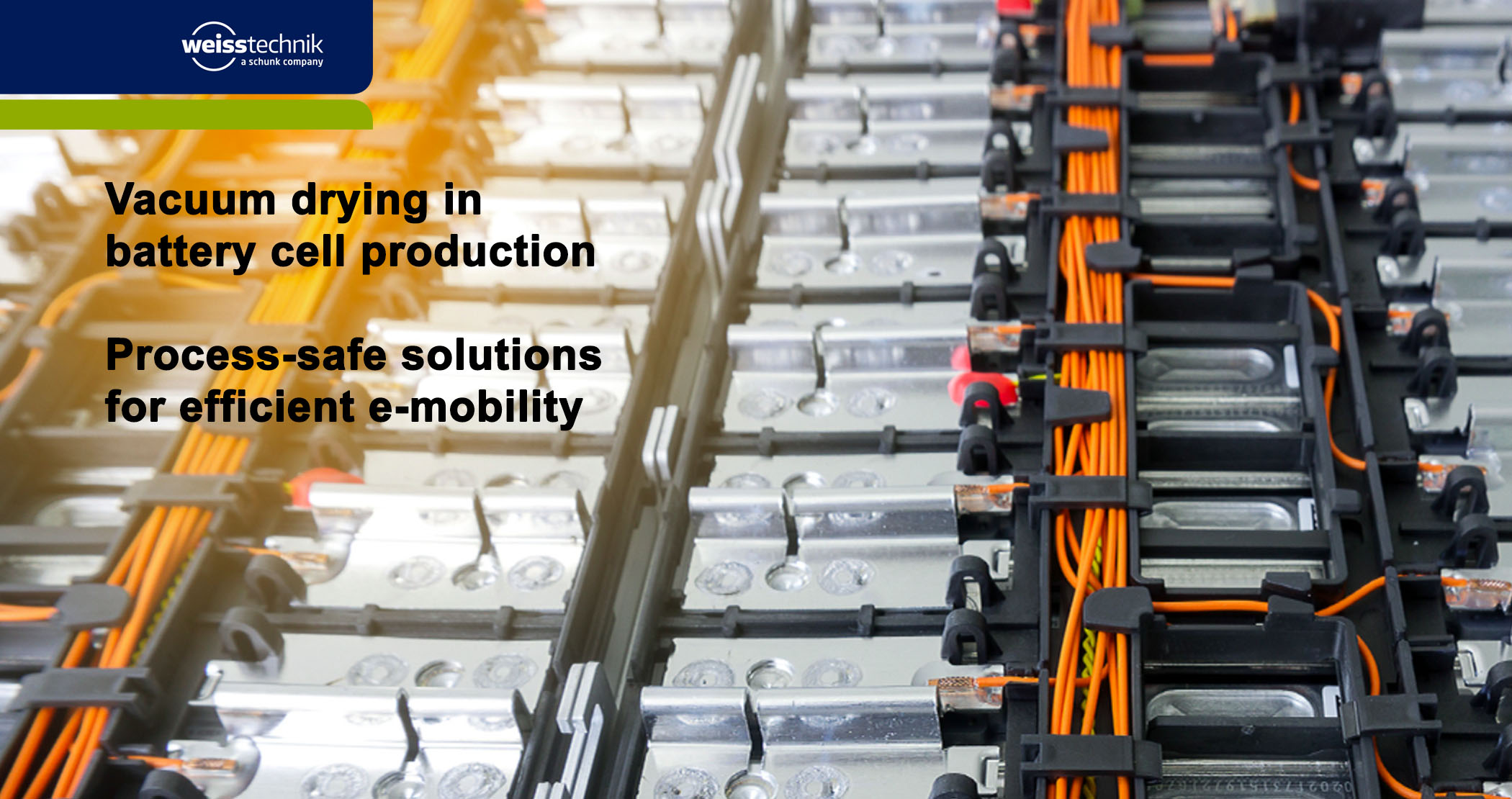 How can vacuum drying be used in battery production? 
Vacuum drying is the final step in electrode production. To ensure that the batteries offer the required performance and longevity, the coated coils must be dried in the best possible way. Even the smallest residues of moisture and solvents are removed from them in the process. Vacuum dryers with circulating air temperature control perform this process particularly efficiently.
After complete drying, the coils are transferred to cell assembly, where they are further processed under controlled drying room conditions. 
How does vacuum drying optimise the production of lithium-ion batteries? 
Currently, there are no established or standardised processes for vacuum drying in battery manufacturing. That's why it's exciting to be involved in research production and to help develop these standards. We do this with our customer specific and process-optimised vacuum drying solutions for efficient and safe battery production. We integrate these into the production line as required.
Since flammable solvents are used in electrode production, process safety is a particularly important aspect. To ensure this, we use our in-depth experience in thermal engineering.

Process-safe solutions for efficient e-mobility
Gentle on the product, precise, reliable – Cross-industry experience with vacuum drying 
We are a cross-industry experienced specialist for industrial heating technology and vacuum drying processes. We plan and implement individual drying solutions that are optimally matched to products and processes. In doing so, we offer integrated system solutions and, if required, also design the vacuum pump technology. In this way, we offer reliable and economical solutions for long-term reproducible drying results.
Faster safe drying – Optimise process times Short process times are important in industrial battery production. In order to dehumidify the te
mperature-sensitive battery electrodes completely and safely as quickly as possible, we recommend particularly gentle hybrid drying systems with circulating air temperature control. The fast process with a short heating time achieves optimal drying results while eliminating air pockets in the electrodes. This is crucial for the performance of the batteries.
Flexible integration in research and production – Customised batch and continuous ovens 
Depending on the application and process, we develop vacuum drying solutions that fit seamlessly into the battery production line: customised batch furnaces with tailor-made coil fixtures or continuous furnaces integrated into production lines for high production capacities. Our vacuum dryers are suitable for both research projects and industrial battery production.
Everything under control – Reliable quality through consistent manufacturing conditions 
For high battery quality, the entire manufacturing process must take place under controlled, dry environmental conditions. A crucial point here is the connection between the individual production steps. Vacuum dryers can be used as an airlock for the electrodes between the different drying rooms. Passing the coils through the airlock ensures that the low dew points of -40 to -60 ºC are not interrupted.
Everything from one source – Solutions for the production of lithium-ion batteries 
As part of the Schunk Group, we offer experience, expertise and diverse solutions for the production of lithium-ion batteries:
These include innovative and flexibly applicable ultrasonic welding solutions from Schunk Sonosystems,
adsorption dryers from Weiss Klimatechnik for reliably low dew points and
a wide variety of environmental simulation solutions for testing batteries under a wide range of conditions.
If you would like to find out more about our vacuum drying solutions, we would be happy to offer you one-on-one advice and develop a customised solution to meet your requirements.