Vacuum ovens – Product range
Vacuum heating and drying ovens for the gentle drying of temperature sensitive, easy decomposable goods and components with a complex geometry also available in explosion-proof design.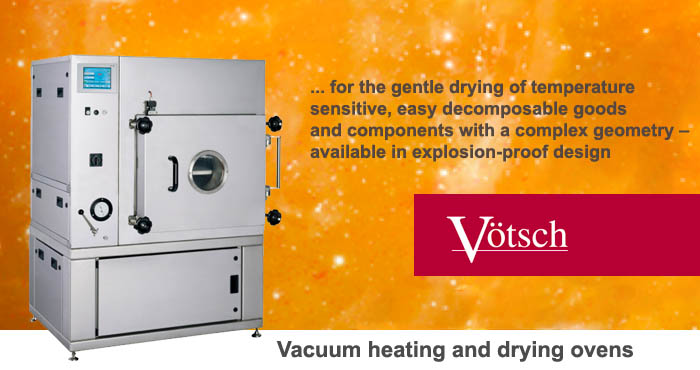 Product-friendly and fast - Optimum drying results under exceptional conditions
The advantages
Heat-sensitive mediums
(e. g. pharmaceutical products) are dried with care

Reduced drying times by lowering the pressure

Due to the extremely low remaining oxygen content in the drying oven there are no oxidation processes

Evaporating fluids (e. g. solvents) can be recovered
Optimum drying conditions for light, powdery products as there is no turbulence (no convection)

No "skin-forming" on the product being dried; therefore constant drying performance

Economic because steam or warm water from other processes can be used as a heat medium

Flexible heating.
Range of application
Pharmaceutical industry


Chemical industry


Cosmetics industry


Food processing industry


Electrical and electronic engineering

Precision engineering and optics
Aerospace industry
Research and development
Microstructure techniques
Nanotechniques

Plastics and ceramics
Textiles
Surface techniques
State your special requirements – we will carry out preliminary experiments for you. 

Vacuum ovens – Standard and customized product list
Vacuum heating and drying ovens VVT

Vacuum dryer VHT 125/170 WW S

Vacuum drying oven RTV 50/120-250°C of cylindrical design