Vacuum dryer VHT 125/170 WW S
Vacuum Dryer – Drying of pharmaceutical active agents and end products – Branch: pharmaceutical industry.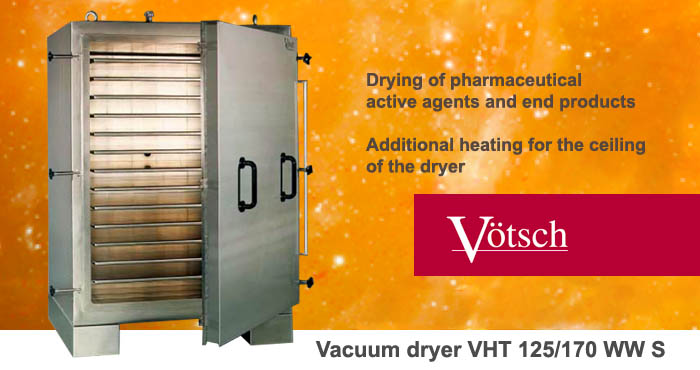 Construction
Warm water-heated shelves

Inner casing of stainless steel, (1.4435)

Outer casing of stainless steel, (1.4301)

Charging with charging frame and tray which remain in the VHT model

GMP design
Vacuum dryer with substructure for moving charging vehicle underneath

Connection for N2 flooding

Pressure indicator via remotecontrolled manometer

Inner temperature display with remote thermometer.
Special features
Additional heating for the ceiling of the dryer

Floor with incline and drain at the deepest point for cleaning purposes

Cleaning connection in the ceiling

Delivery with angular frame for inserting in the wall

Vacuum connection DN 65 TRICLAMP

Pressure sensor for digital pressure indicator in explosionproof design.