Chamber drying ovens for coating materials VTL
Chamber drying ovens for coating materials VTL acording EN 1539 – Safe at all times, suitable for variety of heating and drying processes in production and research.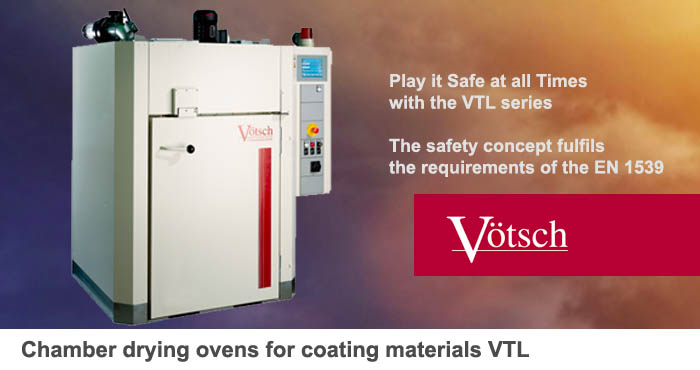 The VTL series from Vötsch Industrietechnik enables you to safely control these heating and drying processes by limiting the quantity of solvent involved. Solvents are emitted during the drying of surface coatings, varnishes and impregnation resins, which, when mixed with air, can result in explosive atmospheres. VTL was developed especially for these processes. The safety concept fulfils the requirements of the EN 1539.
Features
A circulating air fan with an improved performance ensures that a thorough mixture is achieved, thus preventing enrichment through solvent concentrations.

A defined volume of hot air is continually conveyed outwards through the exhaust air fan and replaced with fresh air (dilution principle).

To enable efficient operation to be achieved, the exhaust air volumes can be reduced to 25 % by switching off the exhaust fan.

The circulation and exhaust air volumes are monitored. 
Flow monitors switch off the heating immediately and permanently in the case of malfunctions.

All the terminal connections of the individual components are caulkwelded in the inner casing to prevent the ingress of solvents into the thermal insulation and the resulting enrichment.

        
Univeral applicable

Dry of flammable liquids

Uniform temperature in the whole chamber

Short  warming-up time to high heat output

Short temperature cycles by optimized air ductwork and high air change,

Easy handling
Please contact us for a proposal of the best and most favourable solution for your special application.
Standard Version
Nominal temperatures 250/300/350/400°C

Outer casing made of galvanized sheet steel, coated with RAL shade 9002 (grey-white).

Corrosion-resistant inner casing made of aluminised sheet steel.

Low external wall temperature and minimal loss of energy due to high quality, generously dimensioned thermal insulation.

Grid rails in working chamber, facilitating height adjustment of wire-mesh shelves and grates.

The temperature-resistant door gasket is easily exchanged.
Door of walk-in units can be opened from inside (from model size 75/100).

Tubular heating elements made of stainless steel.

Safety temperature limiter (protects unit).

Microprocessor-based temperature control with solid state relays ensure minimal control fluctuations.

Control panel with additional display and control elements which can be upgraded, thanks to its modular construction.

Exemplary air ducting system which enables an incredibly even temperature distribution to be achieved, even with a fresh air supply.

Air exchange via air intake and exhaust flanges.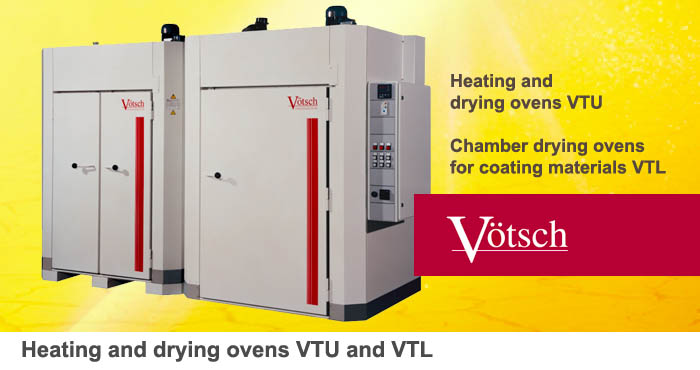 Options
From model size 75/100 on the unit is fitted with doors at the front and rear. The dryer can thus be built into a wall or integrated into an assembly line (Pushthrough design).

The dryer can also be delivered with vertical circulating air flow from below to above in the working chamber.

Shutter walls enable the air flow conditions to be adapted to the individual types of load.

Fresh air filter systems for processes with an increased cleanlines requirement.

Circulation air filter
Safety glass door window

Tubular leadthroughs with diameters of 25 and 40 mm for inserting measuring lines.

Flashing alarm light

Recessed floor rails (available from model size 75/100 on)

Folding ramp (from 75/100 on)