Heating and drying ovens – Product range
Heating and drying oven HeatEvent, TU 60/60, VTU, drying ovens for coating materials VTL acording EN 1539, drying chamber for coating materials LTU 60/60 acording EN1539 and customised solution for you.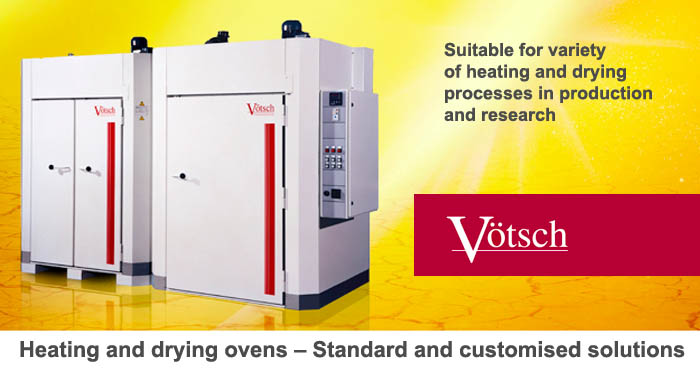 Heating and drying ovens VTU, chamber drying ovens for coating materials VTL 
The previous generation of heating and drying oven series is available in seven model sizes and can be supplied with a working chamber of between 200 and 8000 litres and nominal temperatures of 400°C. These robust drying ovens are suitable for variety of heating and drying processes in production and research.
Units and systems by Vötsch Industrietechnik
Intensive and uniform temperature distribution in the chamber. All products are exposed to the same temperature conditions irrespective of their shape and size.

Easily accessible maintenance provisions guarantee shortest service times.

Low temperatures and low power consumption due to external wall insulation and high thermal decoupling of the inner and outer housing.

Reliable and trouble-free operation through the use of high-quality components.

Comprehensive technical documentation.

The devices and systems comply with the latest technology and the current standards.

High flexibility in the standard and customised production range.
Thus we are able to uniquely respond to the needs of our customers.
Areas of applications
Automobile technology

Chemistry

Electricals / Electronics

Micromechanics

Glass / Ceramics / Optics

Plastics technology

Aerospace

Mechanical engineering

Metal, alloy processing

Micro-structure technology

Surface treatment

Pharmaceutical

Textile / Fiber

technology
Customised Solutions 
Should our extensive standard production program not meet your requirements, we will be pleased to consider a customised solution for you. The examples listed are only an extract of realised tailor-made projects. Please contact us by email or give us a call, and a qualified staff member will advise you.
Heating and drying ovens – Product list
Heating and drying cabinets, HeatEvent
Heating and drying oven with 5 drawers VTU 175/200/80-200°C 
Drawer-type oven – VTU 100/60/75-200°C

Heating and

d

rying

o

ven

f

or

l

aboratories TU 60/60

Heating and drying ovens VTU

Chamber

d

rying

o

vens for

c

oating

m

aterials VTL acording EN 1539

Drying

c

hamber for

c

oating

m

aterials LTU 60/60 acording EN1539

Heating and drying oven VTU 140/210/75-G-270°C
Heating and drying oven VTUD, runthrough system