Chest oven VTUT 100/50/75-350°C
Application: Chest oven for stress relieving of welded constructions, preheating of spinning nozzles. Branch: Metal industry, mechanical engineering, synthetic fibre production.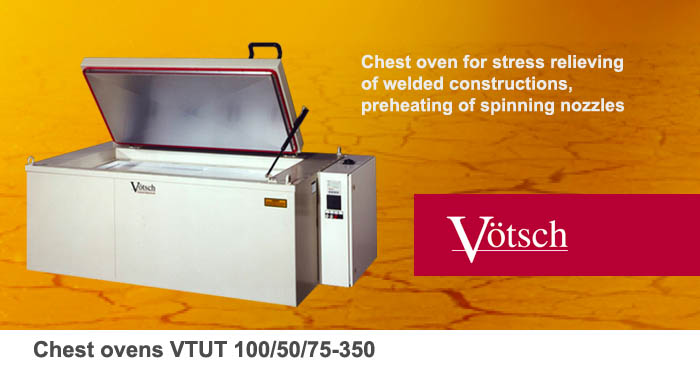 Construction
Outer housing electroplated steel sheet, pebble grey (RAL 7032) protective lacquer. 

Interior housing made of aluminised steel sheet 

1 hinged closing lid 

2 loading levels with wire meshed shelves 

Horizontal airflow 

Switch box with electronic controller
Special Features 
Loading of heavy parts possible from above using a crane.

Chest ovens VTUT 100/50/75-350°C – Technical data
Nominal temperature: 350°C
Heat output: 12kW
Input voltage:
 3/(N) PE AC 400V +/-10%, 50/60Hz 
Inner dimensions 
Width: 1000mm 
Height: 500mm 
Depth: 750mm 
Outer dimensions 
Width: 1665mm (+235mm switch box)
Height: 780mm
Depth: 1580mm