Chest ovens VTUT
The chest oven VTUT of Vötsch is suitable for warming up and hot storing of machine components such as spinning nozzles and pumps. The construction of the device enables for easy charging by crane from the top.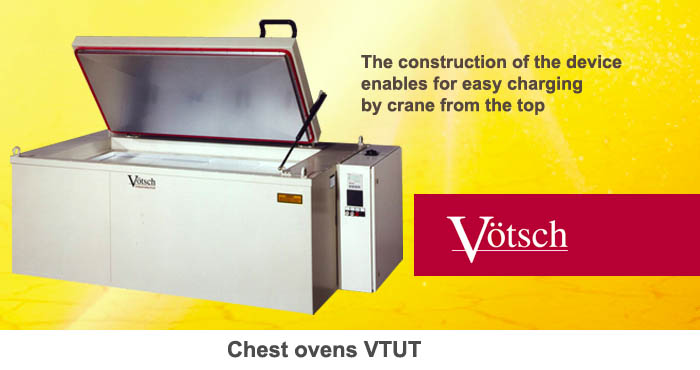 Features
High nominal temperature of 350°C

Easy charging by crane from top

Short warming-up time
 The applications
Warming up and hot storing of machine components such as spinning nozzles und pumps, e.g. in the plastic industry.

Releasing of welding and casting constructions
Warming up of heavy components Pre-heating of materials for subsequent treatment.

Tempering of plastic components.
The equipment 
Inner casing made of aluminized sheet steel
Outer casing made of galvanised sheet steel, finish (RAL 7032) Horizontal air flow
Lid easy to handle by means of gas-springs
Several sectional covers for sealing the working chamber to prevent heat loss when sealing lid is opened Grates at working champer floor for heavy loads
Additional grates in middle of working chamber to increase loading capacity
High operating safety due to tempe- rature limiter as unit protection Convenient, microprocessor- controlled PID-controller.
The options 
Pneumatic cover lifting device 
Exhaust air fan for exhaust of vapours and fast cooling-down 
Inner casing of stainless steel 
Grates of stainless steel 
Special dimensions 
Customised solutions.
Chest ovens VTUT 100/50/75 – Technical data
Nominalnal temperature: 350°C
Working chamber 
Width: 1000 mm, app.
Height: 500 mm, app.
Depth: 750 mm, app.
Volume: 375 Lit

External dimensions 
Width: 1900 mm, app. 
Heigh: 780 mm, app. 
Depth: 1580 mm, app.
Sealing lid hinged 1 pcs.
Covers 3 pcs.
Charging levels 2 pcs.
Grates at floor 1 pcs.
Grates at middle of working chamber 3 pcs. 
Max. load (distributed load) 
Grates at floor: 150kg
Grates at middle of working chamber: 150kg
Heating power_ 12.0KW
Connected load at nominal temperature: 14.5KW
Holding power: 3.0KW
Mains supply: 3/N/PE AC 400V ±10%, 50/60Hz