Chest ovens TUHT 250/80/80-250°C
Chest oven TUHT for heating of flange wheels at 200°C. Branch: Metal industry.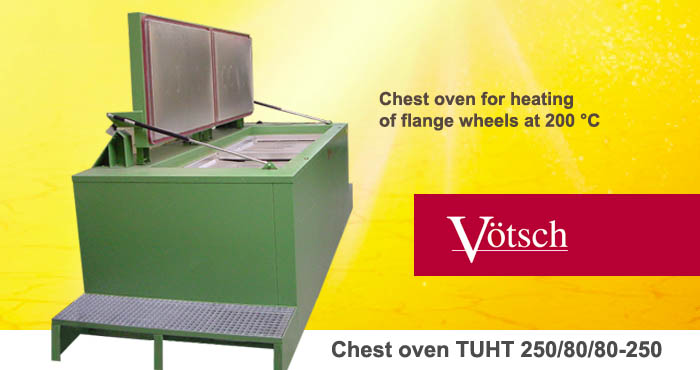 Construction
Outer housing electroplated steel sheet painted in special colour reseda green (RAL 6011).

Interior housing made of aluminised steel sheet 

Chest opening with solid edge protection 

Receiving frame for 12 pieces of flange wheels (tram) 

2 hinged closing lids 

Weekly program timer
Special features
Interior space with high loadbearing capacity (1600kg).

Closing lid can be opened easily on account of gas springs.

Grating platforms on the left and right side panel for ergonomic loading.

Heating oven / chest oven TUHT 250/80/80-250°C – Technical data
Nominal temperature: 250°C
Heat output: 36kW
Input voltage: 400V 3/(N) PE AC 50/60 Hz
Inner dimensions 
Width: 2500mm
Heigh: 800mm
Depth: 850mm 
Outer dimensions 
Width: 3970mm (incl. grating platform)
Height of housing: 1100mm
Height with opened lid: 2100mm
Depth: 2030mm (incl. grating platform)