Tempering ovens, series VAW
Tempering ovens VAW – Universal use up to 750°C in standard sizes. The nominal temperatures are 500°C, 650°C or 750°C depending on the model in question.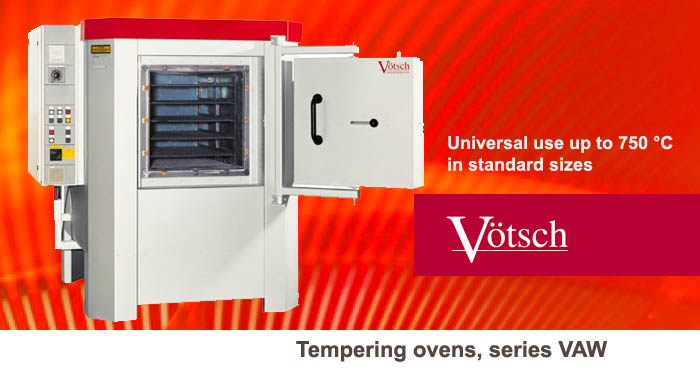 The tempering ovens series VAW represent a construction concept which was proved, tested and enhanced over decades and therefore, is suitable for many heat treatment processes on different materials.
Advantages 
The advantages of the VAW series are high functionality, reliability and durability. The ovens are supplied ready for instal- lation thus avoiding long commissioning times. Further advantages are:
Cost-effective 
High air rate: The material soon reaches the required temperature. Short heating and cooling rates thanks to insulation material with low thermal capacity.
Reduced external wall temperatures thanks to high-quality insulation sys- tem.
Flexible 
Extensive range of accessories and equipment enable universal use.
Ergonomic 
Low noise emissions.
Operating and maintenance-friendly concept.
Safe 
High operational safety thanks to swing mechanism of the test space door: Hot side facing away from the operator.
Adjustable safety cut-out against excess temperature with selection limiter (Protection Class 2).