Industrial microwave system VHM Hephaistos – Product range
The newly developed VHM Hephaistos is an internationally patented system and characterised by a very high field homogeneity. The advantages of microwave technology have been developed successfully to an industrially mature high technology.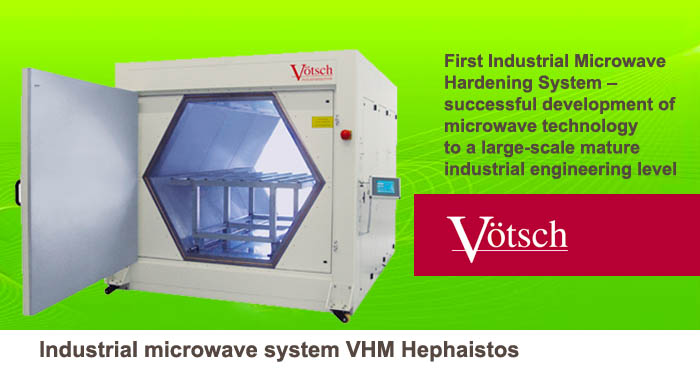 First Industrial Microwave Hardening System 
The newly-developed microwave unit, VHM Hephaistos, is an internationally patented system.
This is the first successful development of microwave technology to a large-scale mature industrial engineering level.
The unit is therefore characterised by an extremely high field homogeneity. It is possible to harden high-quality products and materials (e.g. carbon fibre-reinforced composite materials [CFC]) that, due to their potential for use in light constructions, are employed in aerospace engineering and, increasingly, the automotive industry.
Reduced Production Costs 
Microwaves penetrate the material directly and heat the product, but the oven remains cold during this process.
Production costs reduced through shorter warm-up, process and cooling times are important advantages offered by the Hephaistos system.
CFC composites are still hardened at high pressure in heavy industrial ovens. However, the internationally-patented Hephaistos system functions on a principle that requires no additional pressure and thus only involves inertialess heating of the component itself – the oven being no longer actively heated. This enables the achievement of a high heating rate generated by microwaves in the component at a low energy consumption.
Newly-developed and Inexpensive Processes 
The system also includes newly-developed and inexpensive processes employed in the aerospace industry involving the injection of resin as an adhesive between carbon fibres. Rapid, efficient and inexpensive production of composite structures can thus be achieved. It is also possible to introduce conventional metal tools and charging systems to the microwave field in Hephaistos. The familiar "firework display" given by metal tools and charging systems in microwave fields is a thing of the past with Hephaistos.
The innovative VHM Hephaistos microwave system is produced by Vötsch Industrietechnik in Reiskirchen and was developed in a technology transfer with partners at the Forschungszentrum Karlsruhe research institute, the Institute for Aircraft Construction (Institut für Flugzeugbau - IFB) at the University of Stuttgart and the composite research centre at EADS in Munich. The name VHM Hephaistos System means High Electromagnetic Power Heating Automated Injected Structures Oven System and was derived from that of the Greek god of craftwork and fire.
Standard and customised solutions to your special applications
Heating and drying cabinets

Drying chamber for coating materials

Vacuum, heating and drying ovens

Clean air, heating and drying ovens

Explosion-proof drying ovens

Tempering ovens up to 750°C

Chest ovens for easy top loading
Drawer-type ovens
Walk-in ovens and systems for continuous heating processes
Hot air sterilisers (for normal and clean air conditions)
Charging systems e. g. charging trolleys, transport trolleys and wire- meshed shelves
Heating options: Electrical, gas, infrared, microwave, warm water, steam, thermal oil
For process documentation as per EN ISO 9001 we offer a variety of accessories and software for control- ling, monitoring and documenting.
Networking of up to 99 systems via one PC station.
Competence and dedication to customers
Individual consultation

Engineering and development

Production and assembly

Commissioning and briefing

Calibration in own laboratory

Maintenance, spare parts service, repairs

Recycling of redundant units

t

raining and workshops
Microwave System - Product list
Microwave

h

eating and

d

rying

c

abinets VHM Hephaistos

Microwave system Hephaistos VHM 180/200

Hephaistos

m

icrowave

o

ven VHM 100/100